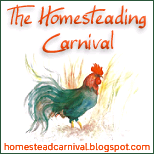 Since this carnival comes up right between my two childrens' birthdays (Sept. 14 & 23), I thought a birthday party theme might be fun!
Dora Renee' Wilkerson presents
Salmon Patties and Fried Green Tomatoes
posted at
The Jud-King Family
.
Alex presents
Mango Salsa Recipes
posted at
Home Life Weekly
.
I actually made Mango Salsa for this party, but used a simple mix of mangoes, green onions, cilantro and Tajin (a powdered chile and lime mixture very popular here in Mexico).
Danielle Hull presents
Zesty Salsa
posted at
Danielle Hull
.
Rachel presents
The Excellent Baker - Apple Crisp
posted at
Rachel's Reasoning
.
Stacy presents
Roasting Tomatoes
posted at
Delighting in the Days....
.
We had a cookout with hamburgers, sausages and chicken. I was able to get a fantastic deal over Labor Day weekend at
Fresh & Easy
, a new market chain that has some great deals!


INVITATIONS - buy or create your own:
You could get some great ideas for invitations from Miss Jocelyn as she presents
Decoding The P31W Graphics
posted at
A Pondering Heart
.

Then you need to GET THE HOUSE READY - this could include decorating and getting rid of pests:
Decorology presents
decorology: Get that "simple life" feeling in your home
posted at
decorology
.
MBB presents
How To Kill Roaches And Get Rid Of A Home Cockroach Infestation
posted at
Money Blue Book Personal Finance Blog
.
Next, we need to BUY THE CAKE - or we could make one with this recipe:
Mexican Redhead presents
Fluffy Yellow Butter-Cake
posted at
Go Therefore And Be Light
.
We ordered a cake from Sam's Club - they really do make a great cake at a very reasonable price!
We also need to MAKE SURE ALL IS READY FOR THE PARTY - this might include a baby in your house:
Tomato Lady presents
Homemade Baby Wipes
posted at
Little House in the Suburbs
.
With a house full of guests, you might want a few tips on
How to Save Water Indoors (a few tips)
posted at
HowToMe
.
And if you are having a GARDEN PARTY, consider these entries:
toad sticker presents
Liquid organic fertilizer
posted at
The Prepared Christian
.
Piedro Molinero presents
More About Butterfly Gardening
posted at
DIY Gardening Tips
.
And don't forget THE GIFTS
- you could buy them or make them yourself like this
recycled water bottle holder
that I made out of colorful plastic grocery bags.
Chickens might be interesting as Carole DeJarnatt presents
Is it Moulting, Molting, or Snowing Feathers?
posted at
Fowl Visions
.
Of course, you could also consider goats: Jacque presents
New Goat Kids?? :O
posted at
Walking Therein
.
We celebrated at our friend's house in Phoenix this year and had a wonderful time! My son, the musician, received a Takamine guitar and my daughter received some electronics - like a portable DVD player and a sound system for her room. And they both used some of their monetary gifts to buy clothes.
Well, that's a wrap on this birthday party edition of The Homesteading Carnival! Don't forget to submit your articles for next weeks' edition hosted by Howtome.com.



And thanks to CyberGifs for their free birthday graphics!